Author: Jack Sullivan, CSP, CFPS Email:
jack@lionvillefire.org
Lt. & Safety Officer (ret.) - Lionville Fire Co., Lionville, PA
Director of Training, Emergency Responder Safety Institute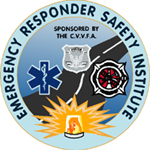 2002 Fire-Rescue International, Kansas City, MO - August 23, 2002
Highway Incident Safety For Emergency Responders - Handouts
Black & White Version (1.8 MB) - Hgwy_Incid_Safety_2002_FireRescueIntl_b&w.pdf
and / or
Color Slide Version (1.2 MB) - Hgwy_Incid_Safety_2002_FireRescueIntl.pdf
( Right Click to download & save file. You will need Adobe Acrobat Reader to open,
read and / or print these files. Click here to get a FREE copy of Adobe Acrobat Reader. )
Highway Incident Safety for Emergency Responders©
Download Presentation Source - PowerPoint File = 1.7 MB
( Right Click to download & save file. This material may not be Packaged, Sold,
or published for any reason, without the express permission of the author.)
Note:
This is a "Lite Version" of the program that has been presented by the author at
FDIC 2001 in Indianapolis, and at the State Fire Chiefs of Virginia Conference in February 2001, the DOD Conference in New Orleans in August 2001, and at Fire Rescue International in Kansas City in 2002. Jack has also provided this training for numerous fire departments, rescue squads, Chiefs meetings, and FD Safety Officer groups throughout the Mid-Atlantic States.

If you need assistance with training on this topic, contact : jack@lionvillefire.org
Also read the following report (106kb .pdf file) published in January 2001:
Watch Out !
A Review of Highway Incidents Involving Fire & EMS Personnel in 2000
& An Overview of Loss Prevention Recommendations©
And
Here is a Summary of Fire & EMS "Struck By" Incidents
1997 - 2002


For a free copy of the Hampton Roads Highway Incident Management Plan,
send your request by e-mail to:
Firefighter Eric Reddeck, Chairman -
Hampton Roads Highway Incident Management Committee at: creddeck@fire.city.chesapeake.va.us
NIOSH Firefighter Fatality Investigations
Highway Related Incidents:
NIOSH Report 99F-27 - August 5, 1999 Incident in Oklahoma -
2 Career firefighters were struck on an interstate;
one was killed, and one was left with serious injuries:
http://www.cdc.gov/niosh/face9927.html
NIOSH Report 99F-38 - September 27, 1999 Incident in South Carolina
Volunteer firefighter dies after being struck by a tractor trailer truck.
http://www.cdc.gov/niosh/face9938.html
Emergency Responder Highway Safety White Paper
August 30, 2000, by The Cumberland Valley Volunteer
Firemenís Association (CVVFA)
Products to Keep You Visible Day or Night - in Any Light.
See answers to the most common questions about ISEA's high-visibility products
standard, and links to suppliers of high-visibility products, in this ISEA brochure.
ISEA PUBLISHES NEW STANDARD FOR HIGH VISIBILITY SAFETY APPAREL
( Info on ANSI 107-1999, and how to order it )
Links to some suppliers, and photos, of ANSI compliant vests